How can we cultivate a culture of connectivity while remote?
Have you ever felt the energy of working on a team where everyone was in sync and got things done? Or have you experienced the opposite, team collaboration that you dread, where no one agrees on anything and you just go in circles day after day?
Collaborating as a team shouldn't be left to luck. Instead of showing up and hoping for the best, why not design how you collaborate? Imagine getting everyone on the same page, setting guidelines, earning each other's trust, and hitting or surpassing your goals.
Those are the ideas that went through my mind as I developed an in-person Designing Collaboration workshop for the 2020 Indy Design Week (IDW) (a gathering of designers across Indianapolis). But when the conference pivoted into a virtual event due to the pandemic, I had to pivot too.
Luckily, my Fusion Alliance team and I are no strangers to running virtual workshops, so it wasn't difficult to transform my in-person Designing Collaboration workshop into the virtual Designing Remote Collaboration workshop.
As I shifted focus to the remote format, I realized designing virtual collaboration isn't just relevant, it's necessary for success, especially today.
This article will give you a quick walk through my workshop so you can see how bringing design thinking mindsets and methods with purpose into your remote team can improve collaboration.
Unpack the common challenges of working as team
Our workshop began by getting all participants to think about of the challenges involved in working as a team. Take a moment to think about what issues your team faces. See if any overlap with the ones we identified in the workshop:
Members have different values or points of view
Endless discussions without action
Struggling to understand one another and align on next steps
Domination by the loudest voices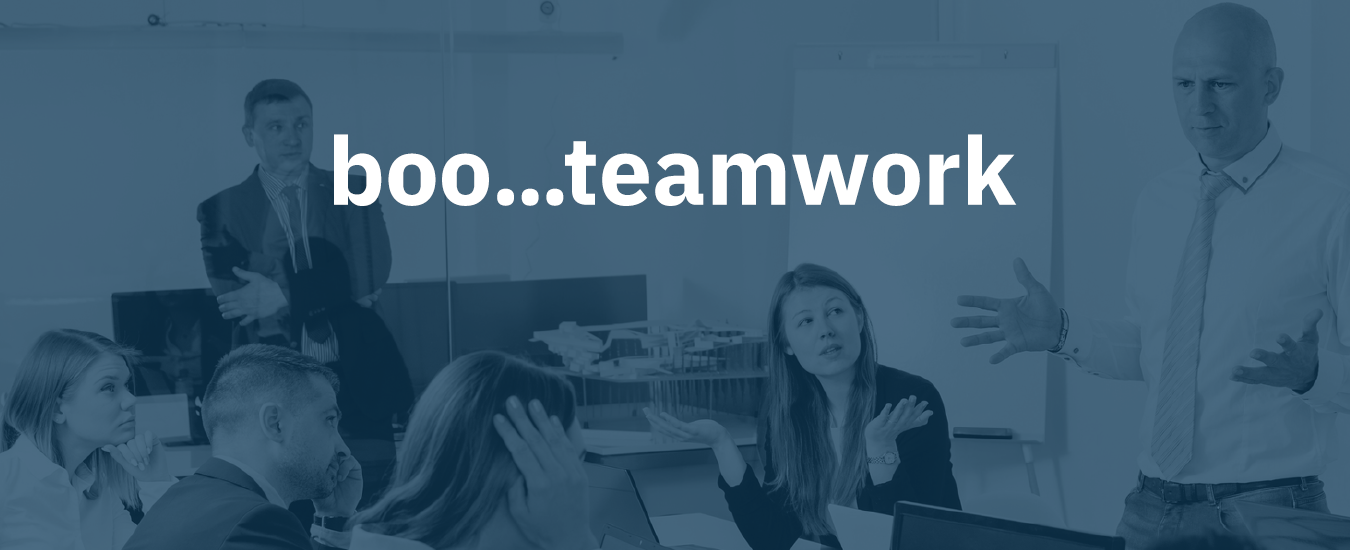 Review the mindsets of design thinking
We shared the following mindsets of design thinking in our workshop. Just think of the impact on your organization if these concepts were to become practice.
Being judgment free to encourage psychological safety
Valuing getting started over being right to avoid analysis paralysis
Allowing work to be time boxed and unfinished
Working together, but alone so everyone's voice is heard
Making things tangible instead of discussing so that there is a common reference
Having a beginner's mind to overcome our internal limiters
Apply design thinking methods to remote teamwork
For the collaborative portion of our workshop, teams focused on redesigning how remote teamwork works in their organizations. We accomplished this challenge using a purposefully designed recipe of design thinking methods.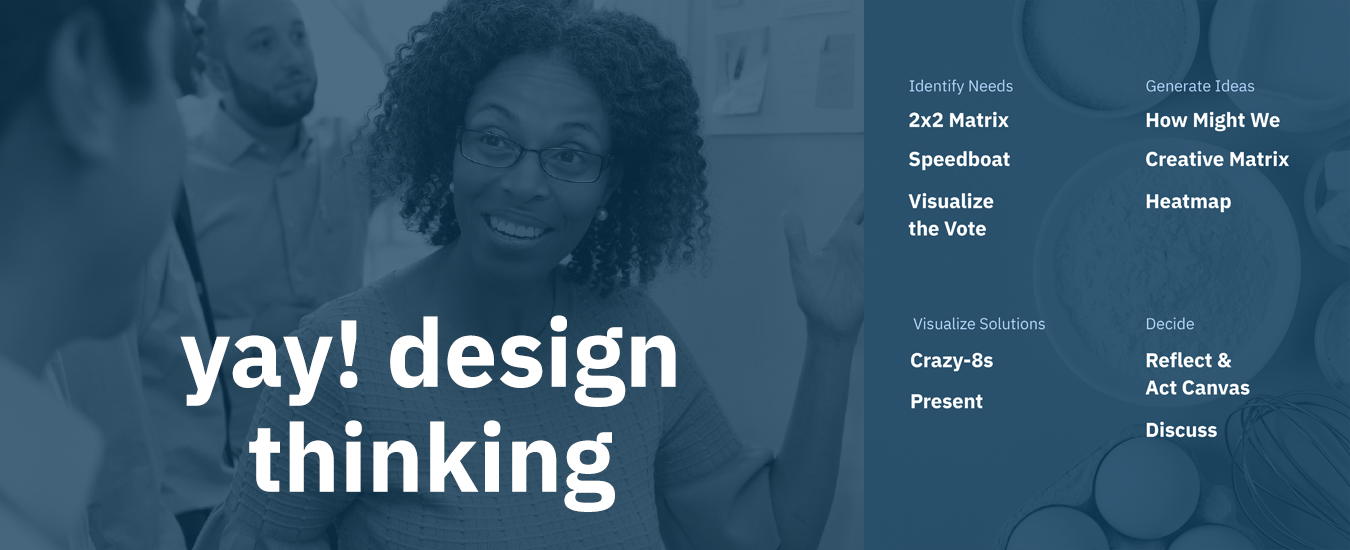 Icebreakers help bring order
IDW volunteers Moti Saleminik and Blake Coats assigned participants into Zoom breakout rooms, and using Miro, an online collaboration tool, they began an icebreaker activity.
While icebreakers can be fun, time is valuable, so our activity was designed for attendees to both get to know one another and to assign an order in which participants would speak to avoid stumbling over each other when it was time to share. The 2×2 matrix revealed that those in the session were overwhelmingly dog lovers!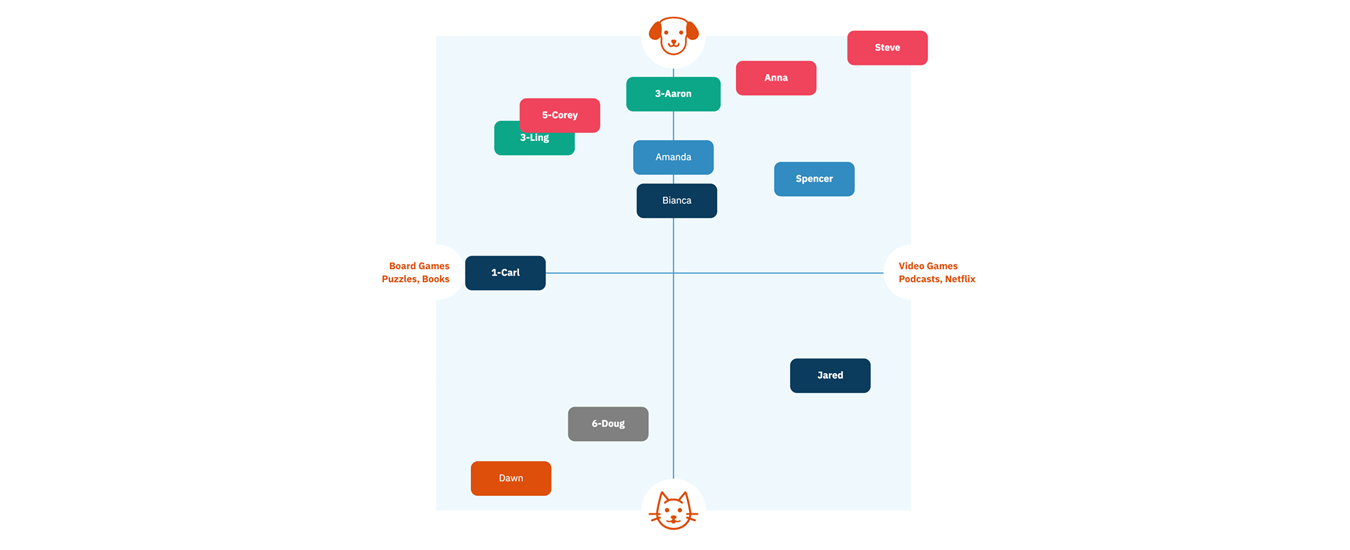 Visually capture where to focus
A Speedboat exercise, a method for visually capturing anchors that are preventing progress, was then used for groups to note what about remote collaboration holds their organizations back. What about remote collaboration holds your team back?
After a vote, our workshop groups had identified the most important challenge they felt should be addressed first. The top challenges across the groups fell into the following categories.
Adopting new technology
Virtual (Zoom) fatigue
Disjointed virtual relationships
Handling distractions
New norms
Brainstorm potential solutions
Groups were then asked to turn their top challenge into a "how might we" statement starter in order to kick off a brainstorming activity.
Brainstorming is most effective when using a structured ideation format such as the Creative Matrix, a grid for generating ideas at the intersection of topics. Using the Creative Matrix, participants generated nearly 60 ideas in just 15 minutes. A Heatmap vote exposed which ideas were most inspiring. These included:
Rating the focus levels of participants to gauge whether a meeting should take place or not
Aligning meetings with participants preferred times
Intentionally building into meetings breaks that release tension
Customizing views and features of meeting tools to express unspoken social cues and prevent distraction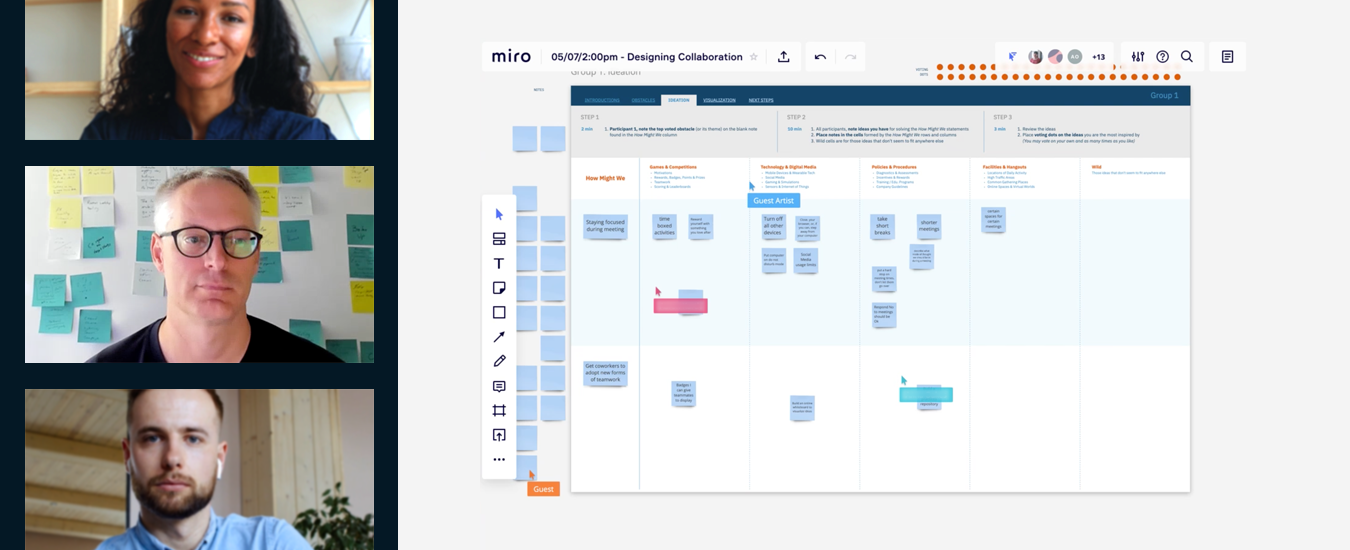 Take virtual collaboration offline
With the next activity, Crazy-8's, I took a risk by asking participants to work offline and then post their work to the Miro board. Changing the medium seemed like it could cause issues, but by using pen and paper, each participant quickly sketched variations of their ideas without having to learn a new tool.
The sharing and discussion that ensued allowed groups to build on one another's ideas, which included concepts such as:
Rating the focus levels of a team to optimize collaboration times
Tracking the time meeting attendees spent actively participating in a meeting
Smart calendaring to ensure an individual's most productive times are uninterrupted by meetings
Enhancements to meeting tools, such as blurring video when inactive and emojis to virtually read the room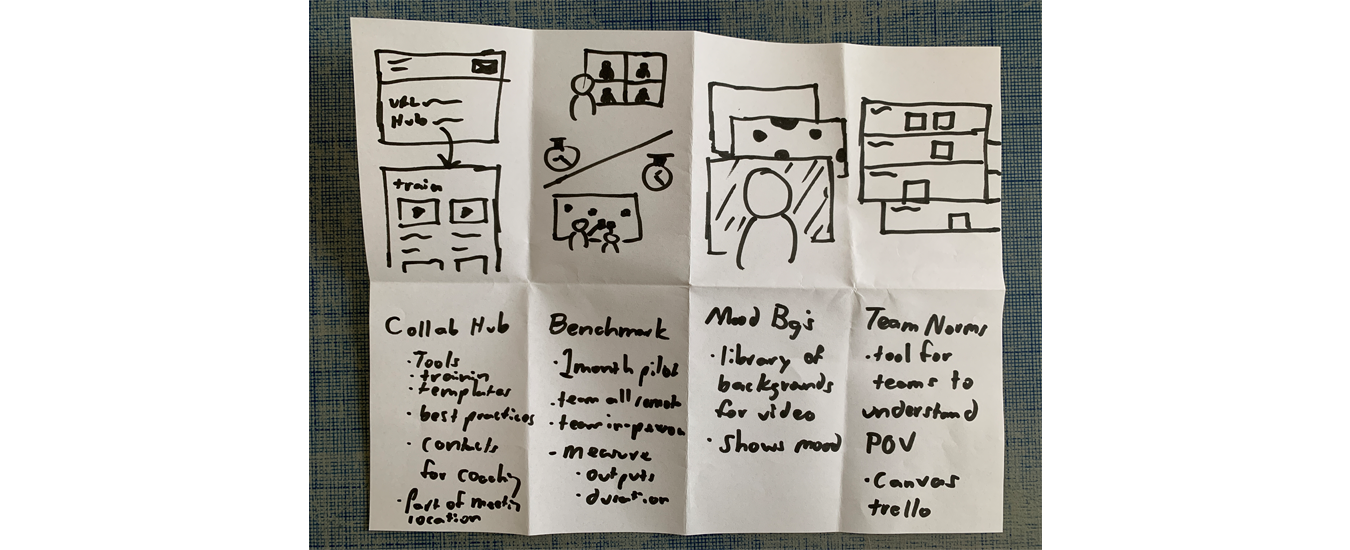 Commit to action
The last step prompted groups to reflect on their experience and note what types of actions they would commit to going forward. This is what they came up with:
Optimistic about
Awareness of how emotional and mental health impacts teamwork
Breaking down the barriers of location
Learning new tools and approaches to collaboration
Worried about
How easily people can disengage or be distracted when remote
The speed with which teams can adopt new tools and techniques
Team members' ability to adapt to this new way of working
Learning about
Emotional intelligence and social behavior
Focus and our environments
Additional best practices for collaboration
Committed to
Greater planning and communication of meeting goals
Being aware of and establishing boundaries while working remotely
Implementing collaboration techniques
Summary: The benefits of designing collaboration
We wrapped up our time together by reviewing how intentionally designing collaboration can make teamwork more effective by:
Building empathy and trust with teammates
Continually iterating towards a goal
Aligning around clear, tangible artifacts
Engaging every team member
Now that you've walked the journey with us, take these lessons and apply them to your own collaboration.
Final thoughts
I want to say thank you to the IDW event organizers who put on an amazing virtual program. They did a fantastic job of adapting the format and worked with all of the presenters and facilitators to ensure we had what we needed to provide participants with an experience that continued to deliver on the theme of Cultivating Connections.
I also want to thank the workshop participants who spent their time with me. They dove right in, demonstrating the value of designing remote collaboration. It was a blast to facilitate this workshop, and remember, as Helen Keller said, "Alone we can do so little; together we can do so much."
Interested in working with me? At Fusion Alliance, we're ready to support your digital transformation, innovation, and experience design initiatives with custom-designed workshops or consulting engagements.


Learn more about workshops by Fusion Alliance.
Want to see our virtual workspace?
Looking for additional resources? Visit Design+Strategy Academy and let me know what you think.