Cloud
Cloud Strategy Consulting
Find the Right Path Forward with Cloud Strategy Consulting
Adopting cloud technology offers a wide variety of benefits for your business, but the key to this success lies in building a clear strategy that is tailored to solve your existing challenges and ensure you reach your goals. Creating a cloud strategy can be challenging as technology is continually evolving, and the path forward may seem tenuous. With cloud strategy consulting from New Era, we cut through complexities and provide clarity, helping you find the right solution for your organization.
We have an experienced team who is well-versed in cloud-native, cloud-first, hybrid cloud, and multi-cloud strategies to help you build a data-driven culture that improves efficiency, empowers your employees, and offers the flexibility you need to shift and scale as your business grows.
Our teams include:
Technology experts
Infrastructure engineers
Software testers
Integration specialists
Business analysts
App developers
Cloud-native developers
Cloud Strategy and Planning Services

Cloud Strategy & Transformation
Identifying the right technologies and having a clear implementation plan will set your business up for success. Our team helps you create a holistic cloud strategy that aligns your goals with IT realities. We also work closely with you to empower your team to leverage the cloud to grow and transform your business.
Projects may include:
Technology assessment
Vision, process, and goal alignment
Strategy development
Roadmap development

Modern Cloud Architecture
When shifting to modern cloud architecture, the result should be stable and scalable to support your business's applications and operations. We help you standardize, organize, and modernize your existing architecture and applications so your IT infrastructure meets your goals and supports your growth.
Projects may include:
Technology assessment
Architecture design
Application modernization planning

Cloud Workload & Migration
Shifting your data and business applications from on-premise or co-located hardware to the cloud requires an in-depth understanding of your existing IT workloads. We work with you to build that understanding and help you modify, enhance, and migrate your applications to the cloud taking care to choose the right path, whether this is workload migration or cloud workload transformation. Our team strives to streamline and optimize your workloads for maximum efficiency, scalability, and performance.
Projects may include:
Workload mapping
Cloud migration strategy
Workload optimization
Roadmap development
Application migration
Cloud workload implementation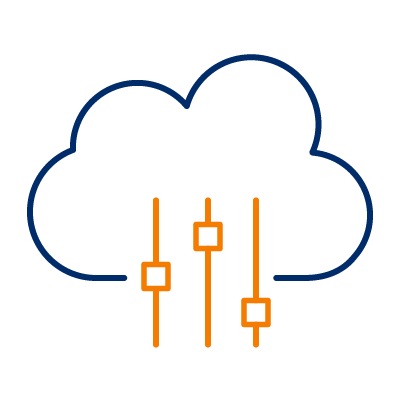 Cloud Economics
Identifying and implementing the technical elements of transitioning to the cloud are only a part of the overall strategy. Our team also works with you to overcome organizational, operational, governance, and security challenges to help you realize the possibilities of cloud technologies across your business. We go beyond establishing frameworks and architectures to assist you with creating policies and practices to expand your cloud capabilities and maximize your return on investment.
Projects may include:
Cloud optimization
Change management
Governance framework development
Risk reduction
Regulatory and compliance consulting
Is Your Company Cloud-Ready?
Whether your business is exploring cloud technology or you're considering opportunities to expand your existing footprint effectively, New Era can help you gain a clear picture of how your current infrastructure, development practices, governance, and security status align with your goals. Using this insight, our team will help you build an actionable roadmap so you can move forward with clarity and confidence.
Our perspective on technology modernization.
Ready To
Talk?
If you're ready to move forward with the cloud, let us know how we can help you out. One of our experts will be in touch right away.