Bob Evans Farms delivers fresh farm-to-table food to grocery stores all over the nation. They have thousands of employees based in corporate offices, production plants, and transportation facilities. For operations to run efficiently, they need all their employees to have ready access to relevant and current information, so they sought a way to facilitate accessible and streamlined communication through a modern, secure means.
This was not possible with their existing communications system, as they were using a "traditional" intranet for internal communications and document storage which was cumbersome, difficult to search, and inaccessible to all but corporate and select facility employees. Company leadership recognized the need for an updated system, with modern capabilities, to achieve their goals and asked current users for input. Based on this feedback, they identified and quantified several areas for improvement, including:
Lack of use or using the system only for HR and benefits documents
No effective search functionality, so employees couldn't easily find content
The content was stale, mostly outdated, and there was no standard process for updating
A lack of connectivity between the intranet and other systems resulted in employee confusion about which systems to access and when they should be used
Ready to create a communications platform that was more user-friendly, provided modern content capabilities, and allowed more efficient communication across the entire company, Bob Evans Farms reached out to New Era Technology.
Solution
New Era Technology looked at their primary objective, which was to easily and quickly connect employees to the person or content they needed. We knew this would require multiple steps and quickly got to work to create and implement a strategy that would overcome Bob Evans Farms' challenges and help them meet their goals.
Our Goal

Establish Guiding Principles

Our first step was to analyze their challenges and objectives and assess their existing intranet and how it integrated with third party systems. With an assessment in place, we then established guiding principles to connect them with the right solutions.

Our Solution

Keep the first iteration simple and intuitive to ensure an enjoyable user experience and prompt more employees to use it
Focus on content auditing, optimization, and infrastructure to ensure users could find the content and information they needed
Create a content governance process to keep content up-to-date and relevant to employees
Solve intranet and third-party system integration issues so they could also simplify and streamline supply chains, sales, and QA/safety teams access to documents housed on other platforms
Our Goal

Identify content goals

With the assessment complete, we worked with Bob Evans Farms to identify content goals for their new site. They wanted the site to include four main content themes, including: team engagement, employee resources, company information, and community involvement.

At the same time, we worked on the creative development aspect of their intranet site.

Our Solution

Complete a content survey and provide recommendations related to organizing content
Built a proof of concept (PoC) SharePoint page to highlight their new themes and the potential that 365 applications could bring to their intranet site.
Completed a UX assessment to understand their current user experience
Created three different designs for their homepage to see what captured their brand and expressed the purpose of the site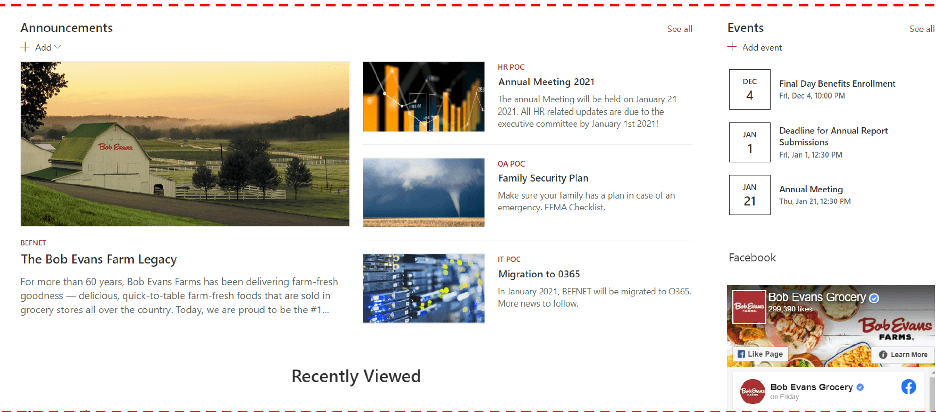 Our Goal

Creating a roadmap for moving forward

We implemented several 365 applications to meet their objectives, but we didn't want to just leave it at that. We created a comprehensive roadmap with recommendations on the content and features that needed to be prioritized for the initial intranet launch. This included recommendations for subsequent site updates so they can continue to elevate their site as they move forward.

Our Solution

Implemented Office 365 SharePoint Online and SharePoint Framework web parts and customizers
Implemented Power Automate Flow
Created a modern and reactive UX with updated pages and page templates
Built an information architecture and established governance
Page and document approval workflows