Stacey is our Office Manager and Executive Assistant in Cincinnati, and just celebrated her 18th anniversary with Fusion. You won't find a person that can't sing her praises. So we sat down to learn a little more about her.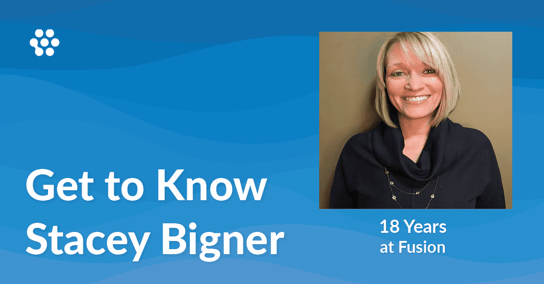 Q: What does a typical workday look like for you?
A: As the only member of the Corporate Services Team based out of our Cincinnati office, I have had the opportunity to be involved in many aspects of the business. My workdays vary based on the current needs and could include onboarding and care of consultants, business development support, quality controls and audits, coordination of events such as the MIT CDOIQ Symposium, assisting local and nationwide CDO Roundtable Forum groups, frontline office administration, on-site IT support, vendor and office management and administrative support to the executive leadership.
Q: What is your favorite part about working for Fusion?
A: I like the variety of work and learning new things, but it's the quality of the people I work with and the subsequent friendships that have made my time at Fusion so rewarding.
Q: What has kept you at Fusion for this long ?
A: To explain why I stay I need to share a little bit about how I started. Eighteen years ago, I received a call from my previous boss, Julie Kimmel, asking if I would help her open a Cincinnati office for a company based out of Indianapolis called Fusion Alliance. I was a stay-at-home Mom at the time, so I reluctantly agreed to help for 6 months, part-time, as a favor. From the beginning, Fusion supported me in my role but more importantly supported me beyond it. I was able to reengage in the workforce while still being the Mom I wanted to be when I initially made the decision to stay home. I stay at Fusion because I'm forever grateful, I love the people and I realize now that Julie Kimmel did me the favor!
Q: What do you do for fun outside of work?
A: I have a passion for interior decorating. My husband and I have renovated several fixer-uppers both to live in and to flip. Our most recent located in Lake Cumberland, Kentucky. We love the Cumberland area and enjoy spending our summers on the water boating with family and friends.
Q: What did you want to be when you were little?
A: I wanted to be an Olympic figure skater. It was a short-lived dream. I did eventually take up playing rollerblade hockey, not the Olympics but it was a lot of fun.