Jeremy is a Solution Director for our Technology practice and has been with Fusion for almost 8 years. He is a talented full stack web developer, systems integrator, and designer for a wide variety of business applications. He is particularly passionate about data visualization and web-enabling existing solutions.
Read on to see what Jeremy has to see about his days at Fusion and what he loves most about his job.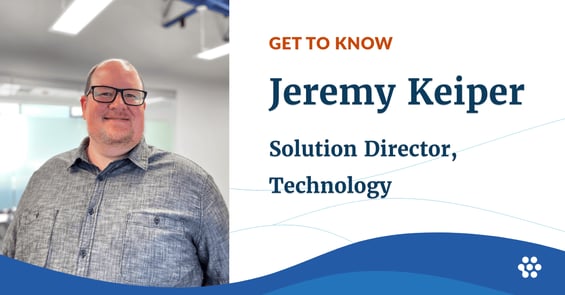 Q: What does a typical workday look like for you?
A: My day begins with a few cups of strong coffee while I catch up on emails and plan out the day. I usually spend a little time on each of my projects, always pushing forward with Fusion interns and any sales or development opportunities I have, and training on new technologies.
I take every chance I get to connect with other Fusion employees over lunch and enjoy hearing how their projects are going, and I really love brainstorming new creative opportunities with my peers.
Q: What is your favorite part about working for Fusion?
A: Hands down, my favorite part about working for Fusion is the people. I am surrounded by highly capable people who are not only great at what they do for Fusion, but also demonstrate admirable character.
Fusion is willing to invest in me and my ideas, letting me explore opportunities, for which I am extremely grateful.
I also love the company events, office competitions, and family outings where we can spend time together celebrating Fusion's successes.
Q: What are your tech specialties?
A: My specialties include content management, database administration, query optimization, Javascript, D3 visualization, Angular 4+, HTML5, J2EE Java, MySQL, PHP, Python, shell scripting, SQL, XML, system administration, and WordPress customization.
Q: What inspired you to pursue a career in this field?
A: Growing up in the 80s, the buzz around computer programming was fascinating to me. When I could not audition to be a music major due to tendonitis, I chose this hobby as my major and never looked back.
Problem solving is the part I love the most, but what I realize now more than before is that people are the crucial part of any solution. Working with Fusion, I have access to hundreds of experts willing to help me understand any situation that comes my way.
Q: What did you want to be when you grew up, and why?
A: I always dreamed I would be involved in music performance, conducting an orchestra or writing scores for movies. My childhood was full of piano lessons and tinkering with music. As I got older, I began accompanying singer/songwriter friends and playing in small bands, and I still love to make music alongside great musicians.
Q: What do you do for fun? Do you have any hobbies?
A: I enjoy board games and playing the piano, but where I spend most of my free time lately is in the kitchen, making yummy cakes and cupcakes for neighbors, friends, and family. Once in a while, I get to play with Arduino kits and smart home automation.
Most importantly, I enjoy being a husband and father to my beautiful family.
Q: What are your favorite can't-miss sights in Indianapolis?
A: My favorite time of year is late summer and fall, and with that comes Indianapolis Indians ballgames at Victory Field, the State Fair, trips to Dull's Tree Farm, the orchard at Stuckey Farms, and eventually Christkindlmarkt in Carmel.
Conner Prairie is a must-see, with concerts in the summer and lots of fun activities for the whole family. Indianapolis has fantastic family-owned restaurants all over and in the suburbs that are worth trying out.
My community also hosts summer concerts in the town hall parking lot, with food trucks, and great music.