Join us on September 21st at ComSpark's Innovation and Technology Summit as CIOs, CISOs, CTOs, CDOs, and other IT Executives come together virtually to learn and network.
A session you won't want to miss
Fusion's Vice President of Strategic Data Management & Analytics, Mark Johnson, will be moderating a panel with executives from Kroger and Abercrombie & Fitch. In this session, you will learn how these two leading organizations are harnessing API architectures to better serve their customers in the rapidly transforming digital commerce-driven economy, including:
Enabling agility and seamless integration
What challenges they have experienced
How they see future delivery
Another one to put on your radar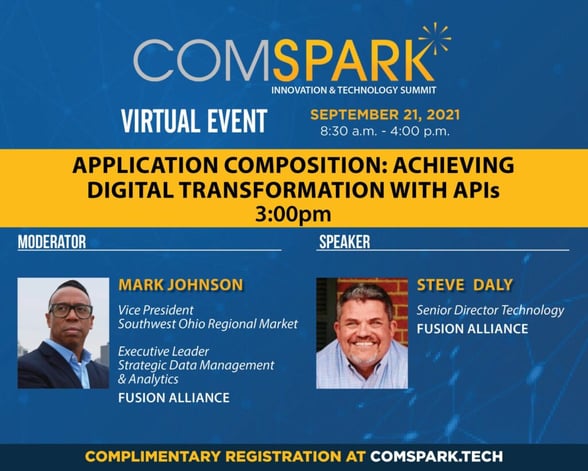 Mark Johnson and Fusion's Senior Technology Director, Steve Daly, are hosting a session on "Application Composition: Achieving Digital Transformation with APIs."
About ComSpark
ComSpark is the largest technology conference in the region and is a key event for sharing and exchanging new ideas, technology trends, and networking.
You will be immersed in a full-day experience that will:
Ignite your passion for innovation and learning.
Provide virtual networking opportunities.
Offer 30+ in-depth technical sessions featuring leading industry experts.
Feature virtual vendor expo and technology solution demonstrations.
See the full schedule and list of speakers here.
Registration is complimentary. You can sign up here.