We're excited to sponsor this year's MIT Chief Data Officer and Information Quality Symposium (MIT CDOIQ).
Now in its 15th year, the MIT CDOIQ Symposium is a key event for sharing and exchanging cutting-edge ideas, problem-solving, and collaborating with other data leaders. We know data is a critical aspect of every organization and the time is now to advance the knowledge and accelerate the adoption of the Chief Data Officer across industries and geographies. This symposium is the place to do it.
Against the backdrop of data analytics, machine learning, data quality, and data management, the MIT CDOIQ Symposium will explore delivering mature data & analytics capabilities for ROI, including local organizational issues to global challenges.
Fusion's Executive Leader of Strategic Data Management and Analytics, Mark Johnson, will be moderating a panel on Engineering the Digital Enterprise, featuring panelists Wesley Rhodes (Kroger), Todd James (Fidelity Investments), Deval Motka (Quicken Loans), Ben Sabloff (Key Bank), and Roberto Maranca (Schneider Electric).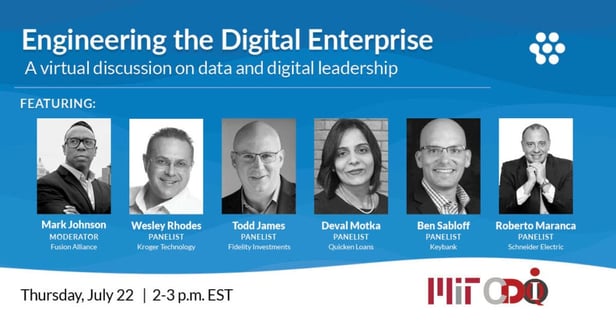 In addition, Mark Johnson will be conducting a one-on-one interview with Dr. Matthew Graviss, Chief Data Officer & Managing Director of the Center for Analytics, US Department of State. As the first dedicated CDO at the US Department of State, Dr. Graviss presides over a globally diverse data management and analytics team to enable data-driven diplomacy. In this interview, Dr. Graviss will share his approach to developing a comprehensive data strategy and roadmap to drive value delivery, along with the challenges and opportunities that his strategy addresses.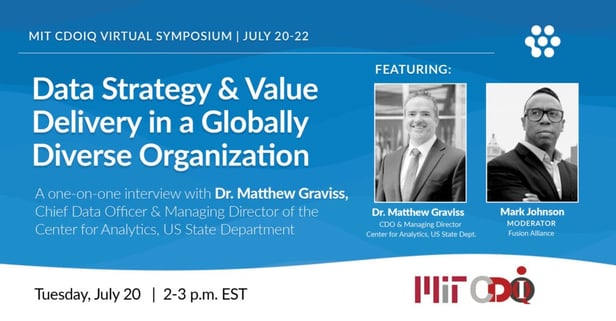 This is an event you won't want to miss. We'd love for you to be our guest. To join us, reach out to Mark Johnson at mjohnson@fusionalliance.com and we'll get you registered. You can check out the full agenda with additional sessions here.