A "mobile moment" is when someone texts, opens an app, or uses their mobile. Each mobile moment allows a business to engage with its users and build their custom mobile strategy.
Identifying and working on mobile moments is the starting point for creating mobile apps and implementing an enterprise-wide mobile strategy. Mobile moments highlight touchpoints as opportunities to consider while making a workflow.
For instance, when building a workflow automation App for your field staff, the touchpoints will cover customer data capturing, inventory access, expense reporting, and data access to the CRM system. An ideal mobility solution considers all these touchpoints and converges data from multiple sources into a single app, enabling easy access for the end user. Features like multimedia and mobile sensors add further value to your mobility app.
Approaches to Enterprise Mobility Strategy
There are two strategies to build mobility for your business.
The first is identifying processes with multiple touchpoints by different users and converging as needed. The second is to act on those with delays or longer wait times for a user action and start building applications to address them. If your enterprise is already mobile, you can start by optimizing and refining the current processes for mobile deployment.
Harness the Power of the SAP Mobile Services in your Mobile Strategy
The SAP App Store has more the 1,800 SAP and Partner Apps and an active customer base of over 200,000+ users. With the SAP Mobile Platform, building and deploying mobile Apps on SAP has never been so effortless.
The SAP Mobile Services platform is perfect for building Mobile Apps for B2B and B2C segments and enhancing the power of the SAP ERP platform with scalable and mobile-ready applications. It's an open-source tool that supports rapid App development, configuration, and end-to-end management and governance.
With SAP Mobile Services, you can build an enterprise mobile strategy by designing and managing Apps to provide your business with the required functionalities. The cross-platform application development environment empowers you to create an App that runs on any mobile system.
Benefits of SAP Mobile Services
SAP Mobile platform is a service based on the SAP Business Technology Platform (BTP). You can build and deploy new Apps or customize existing Apps quickly and host them on-prem or on the cloud. You also gain access to the 200,000+ existing SAP customers by featuring your App on the SAP App Store.
Here's what you need to know about the SAP Mobile Services platform to help you build an enterprise mobile strategy to make your business more accessible and mobile.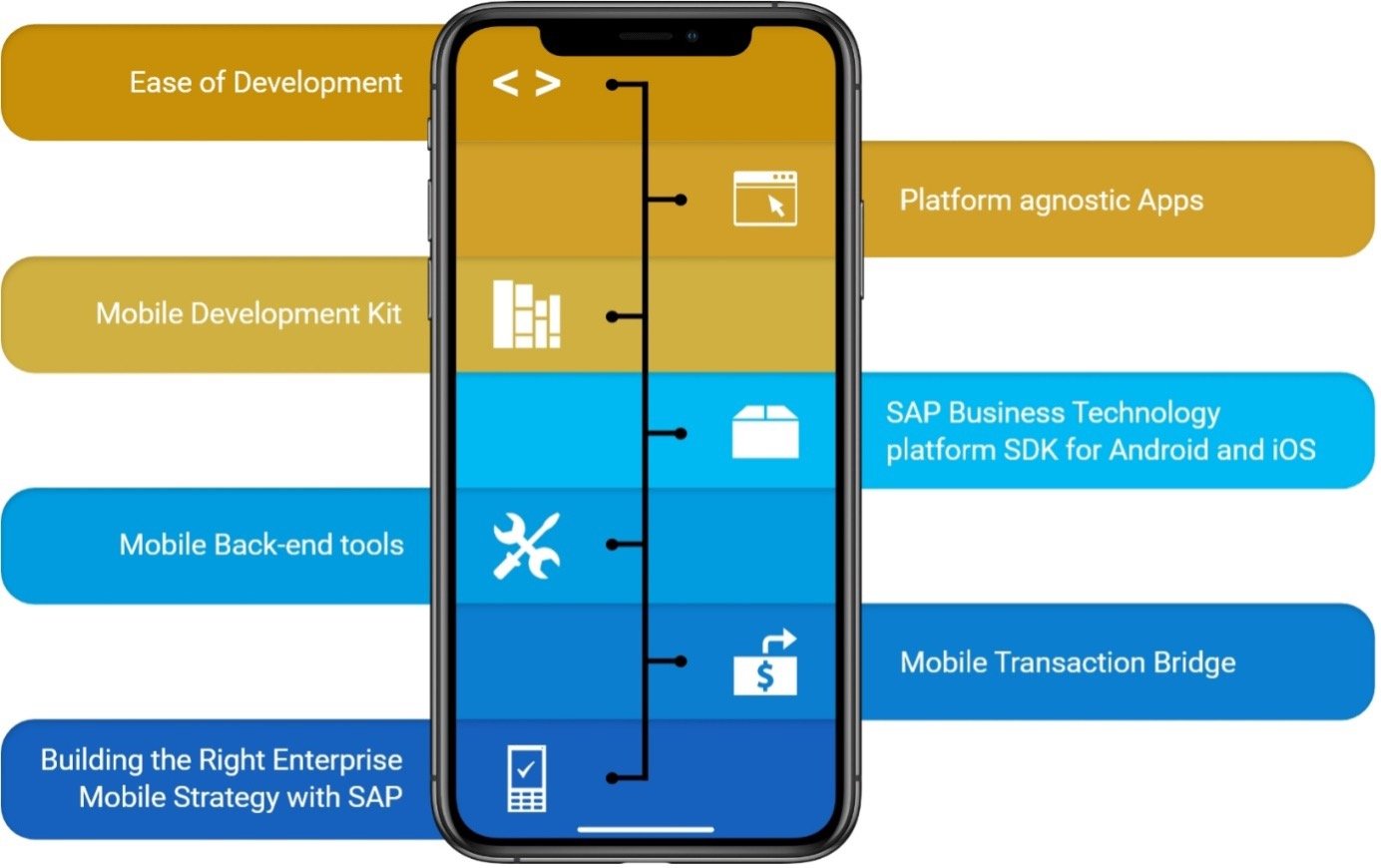 Platform Agnostic Apps: Build Apps across Android and iOS platforms with SAP Business Technology Platform to experience faster implementation of features and functionalities. The platform supports Native OData, Hybrid, and Web Apps.
Application Analytics: Get a granular overview of the App usage, with graphical statistics displayed in the Mobile Services cockpit. Such statistics enable administrators to track usage and make way for potential feature enhancements or update existing security policies by mitigating the effect of loopholes that compromise the system.
Work Offline: Build Apps that run even in an offline mode with a local data source that synchronizes with OData and open accessibility standards. Such a feature enables users to work on the App, even with sparse network connectivity.
Push Notifications: SAP Mobile Services uses push notifications to send updates to the App from a back-end source, making App communication simpler and easily accessible.
Comprehensive App Management: Create, manage, and govern Apps with extensive features that facilitate easy administration.
SAP Fiori Client: The included SAP Fiori Client is a native application container for real-time access with a responsive, consistent, and simple-to-use interface and runs the Launchpad online.
App Security: Choose from a wide range of security policies, from two-factor authentication to role-based access and built-in virus scanning to data wiping and automatic removal of users where usage doesn't conform with your organizational guidelines. In short, SAP Mobile Services gives you complete control of business Apps accessed from a mobile device.
Tracking capabilities enable administrators to monitor data exchange between the App and SAP Mobile Services. The feature enables capturing HTTP traffic, policies, and downloads, both locally and through a dedicated tool.
Building the Right Enterprise Mobile Strategy with SAP: Many enterprises are moving their applications to the mobile platform because of the rising focus on providing greater accessibility and information sharing. The right mobile strategy involves thoroughly understanding your end users and the data they need to access on the go. In addition, it involves making Apps and creating value by making data and operations more accessible for your end-users.
Rapid mobile solutions development is no longer a limiting factor in SAP. With the SAP Mobile Services platform, develop custom Apps for your diverse business requirements and rapidly deploy them across all your users. It is time for businesses using SAP to look at enterprise mobility for its distinct advantages and unleash the full power of the SAP Mobile Services Platform.
To know more, contact us, and our team of experts in SAP Mobile Services will be glad to help.